oev camp-x
slide-in camper
[ Prices start at $40,421.00 ]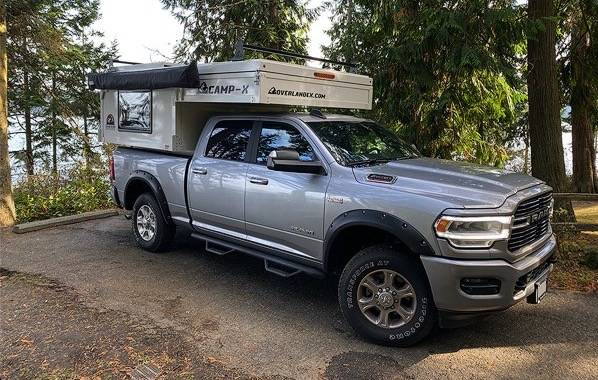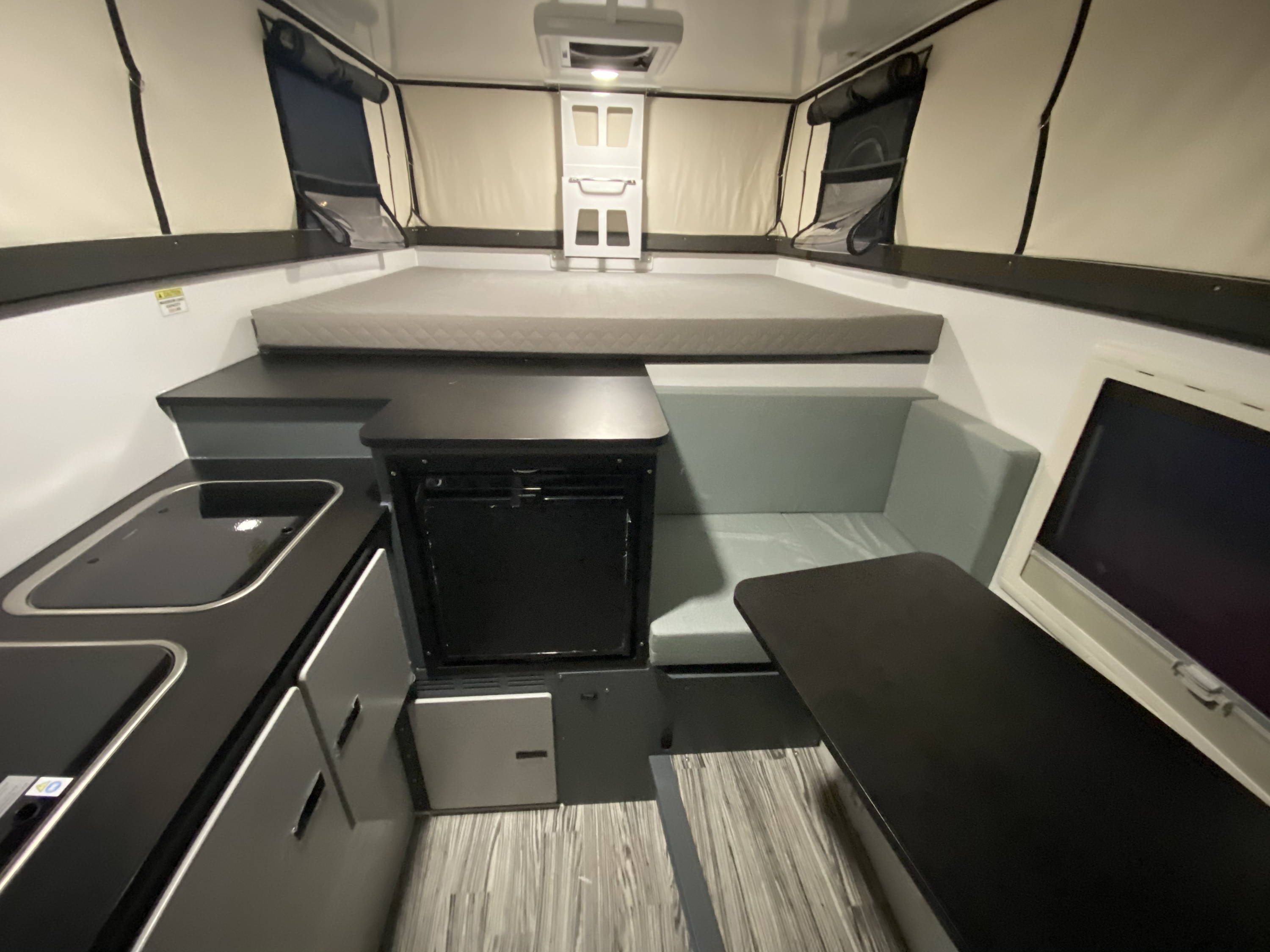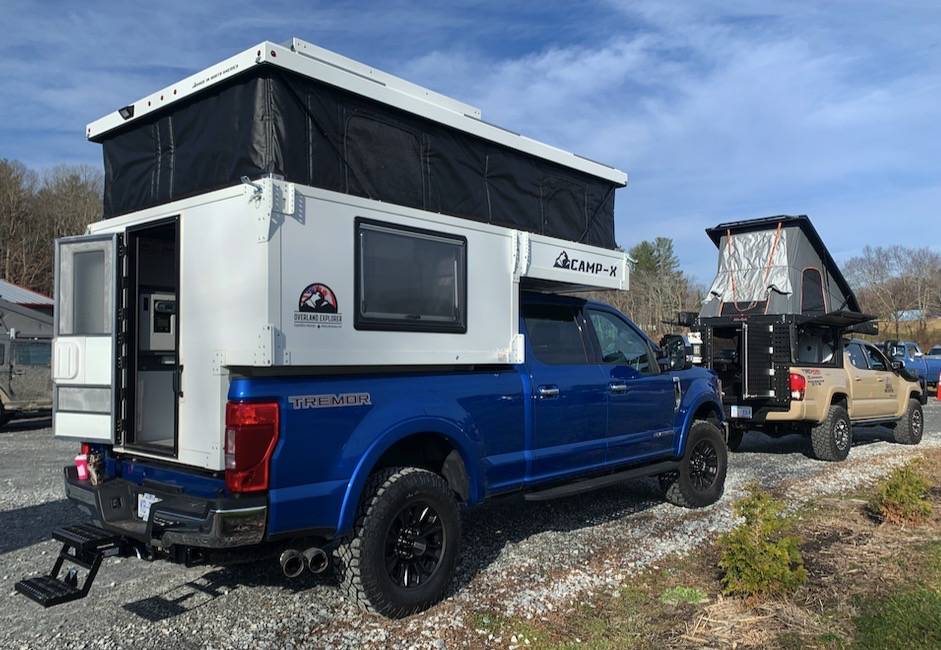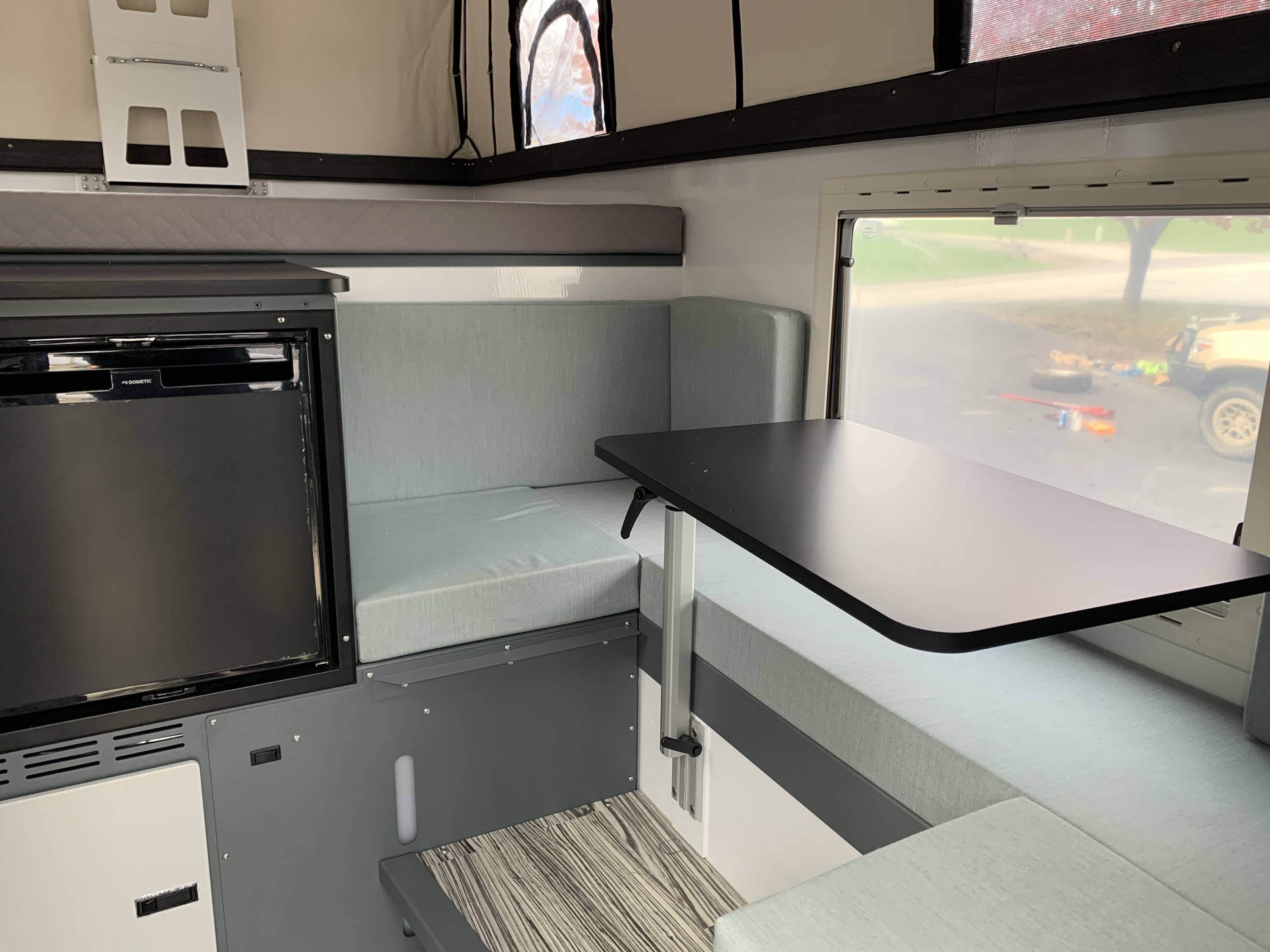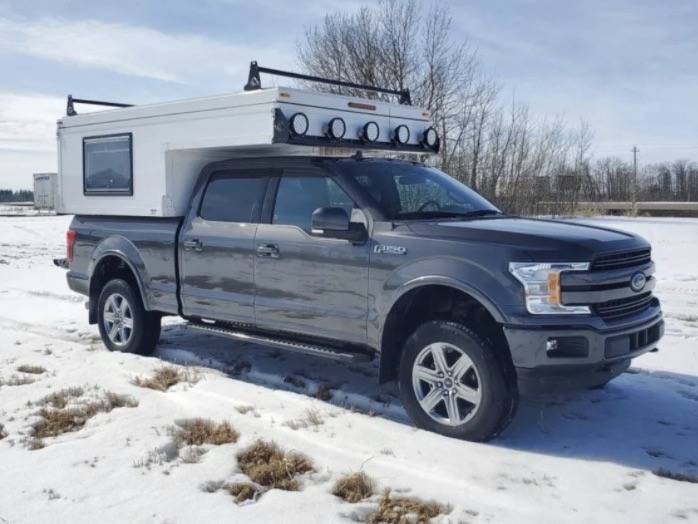 Contact our sales team to learn more or to place your order!
The Overland Explorer composite CAMP Series is a lightweight, composite slide in pop up camper designed specifically for the full size 1/2 or 3/4 ton truck market. Overland Explorer truck campers are designed with a proprietary panel and extrusion system to keep weight extremely light, extremely tough, and extremely warm (or cool!). With new extrusions designed specifically for this application, thermal transfer has been almost eliminated keeping the interior more comfortable in inclement weather. Along with the very high insulating value of our hybrid wall, we incorporated a fully insulated soft side, it is a standard feature that will keep you warm….or cool and it's substantially quieter than a single panel side. Our heavy duty locking roof supports are easy to use, and lock solidly in place, a foot of heavy wet snow….no problem! We have managed to conceal the struts while the camper is in travel mode, where it is most often exposed to dirt and mud.
The design has been based on our own experience and the experiences of a lot of owners/travelers using similar products, we feel the results are a near perfect marriage of real world function and manufacturing technology.
The CAMP-X slide-in truck camper is 6'8" on the floor, it can be used on a 5.5' or a 6.5', 1/2 or 3/4 ton pickup trucks.
Please Note: The Overland Explorer Camp-X must be installed at Asheville Vehicle Outfitters. We are unable to ship this product to you. The Dealer Destination Fee is shipping from the manufacturer to us.
External Dimensions: 140" L x 82" W x 62" H (closed) / 84" (open)
Internal Dimensions: 137" L x 77.5" W x 82" H (open)
Powder Coated Aluminum Extrusions
OEV Gen 3 Composite Floor, Walls and Roof (>=R8)
Fire Rated & Insulated Soft Walls (>=R4)
Locking Roof Supports/Hinges Front and Back
Gas Struts Assist for Lift
DOT LED Lighting
Dry Weight: 1200 lbs (does not include jacks)
The Camp-X is a well equipped camper that includes all of the features as standard:
Plumbing/Heating/Cooling
Truma aquago hot water



Truma vario heat w/thermostat
10 speed roof vent w/roller blind
20 gal fresh water tank w/12v pump
Bullfinch outside shower on driver side
Smev s/s sink w/flush mount glass top
Smev cooktop w/flush mount glass top
USB plug (dual outlet)
12V auxiliary connection
LED entry light
LED interior lighting
Redarc: The Manager 30 w/display
Victron 100Ah AGM battery
Dometic crx65 built in fridge
Dometic sietz side window
Screen door
Entrance door grab handle
Aluminum propane cabinet w/10 lb bottle (space for two)
C-shaped dinette folds down into bed 38"x77", will also house a porta potti
Marine grade fabrics
3" medium density foam cushions
High traffic grade vinyl flooring
Structural powder coated aluminum interior cabinetry
Fire extinguisher
LP detector
Smoke/CO detector
Thermo break foam kit
(4) manual rieco titan jacks
Roof rack ready "L" tracking