X-Line billet 6-piston off-road calipers.
High-performance brake pads, pre-loaded into the calipers.
2-Piece 345-395x34mm 72-vane discs.
Semi-float disc drive system allows for radial disc expansion and contraction.
Curved, directional cooling vanes.
Billet caliper mounting brackets.
Stainless steel braided brake lines.
All necessary mounting hardware for quick, easy bolt-on installation.
Comprehensive fitment and bed-in instructions.

The 2-piece disc assemblies used in our (Stage-2) X-Line 4x4 big brake kits are cast from a proprietary high-carbon cast iron alloy that provides excellent durability and stability under the high thermal loads experienced under fast-street or off-road driving. The discs feature 72 x curved, directional cooling vanes. The design significantly increases cooling vane surface area and air-flow when compared to factory / OEM disc designs, resulting in vastly improved cooling.
The slot pattern chosen for our X-Line 4x4 discs is our well-proven "AT" slot pattern that provides a good balance between functional aspects such as efficient removal of sand, mud and water (when driving in the rain or after river crossings) and practical aspects such as low levels of noise, vibration and harshness (NVH) under braking. The slot pattern also provides good bite and release characteristics.
Every single Powerbrake 2-piece disc assembly is measured for run-out and disc thickness variation (DTV) using Swiss measuring equipment. When it comes to QC, there is no batch or statistical quality checking of Powerbrake discs. Every single disc is measured. Our machining tolerances are up to three times tighter than the industry norm.
All our X-Line 4x4 disc rings are coated with a proprietary black surface coating. The discs are chemically de-greased before the application of this coating to ensure that no machining fluids or other contaminants that can be absorbed the brake pads and negatively affect brake performance are present on our discs at all. The coating is able to withstand extremely high temperatures and is flexible enough to expand and contract without flaking or peeling off of the disc surface during the constant thermal expansion and contraction cycles experienced by the brake disc.
Our X-Line 4x4 disc disc assemblies require no cleaning or preparation using solvents at all. Simply ensure that the car's hub is clean and fit the discs as they come out of the box. The black coating will be removed by the brake pads in the pad track areas within the first 4-5 brake applications. The un-swept areas of the disc will remain coated. While our disc coating was primarily designed to ensure that there was zero presence of oils and contaminants on our disc surfaces at the time of fitting (and was not in fact designed to provide corrosion protection), practical experience has shown that the non-swept areas of our coated X-Line 4x4 discs will in fact resist the common formation of unsightly surface rust on the non-swept areas of the discs quite well (depending on environmental conditions in your area). This results in a far more visually appealing assembly visible through the car's wheels.


disc maximum temperature recording (mtr) system
Unique to Powerbrake, all X-Line 4x4 discs feature our MTR system that provide a permanent record of the peak operating temperature reached by the discs. This information is extremely valuable when selecting correct pad compounds for your application. The thermal-paint tabs are applied to the outside diameter of all X-Line 4x4 discs (on both the inboard and outboard disc plates).
Each single-change paint colour (4-levels: Blue, Green, Orange and Pink) changes to white when a specific temperature is reached, hereby providing a record of the peak operating temperature of the disc. We also add a multi-change paint that can be used with a provided colour gradient chart to further refine the results to a more specific temperature. The simple information required to interpret the results recorded by the MTR system on our X-Line 4x4 discs is provided in the instruction manual that accompanies every X-Line 4x4 big brake kit.
The light-weight disc hats used in our X-Line 4x4 disc assemblies are machined from a solid billet of high grade aluminium alloy. Again, machining brake components from solid billet is expensive but it results in an extremely strong finished part. All hat designs undergo FEA strength and thermal analysis to confirm strength and rigidity under load. The hats are then finished with a dark grey, type-3 hard anodise for maximum durability and service life. Logos and other information are then laser etched on the outboard face of the hats.


At Powerbrake we have many years of R&D invested in disc float systems. We have developed advanced float systems for our full race brake systems for applications ranging from circuit racing to FIA off-road and Dakar Rally. For our X-Line 4x4 big brake kits, we decided to use semi-float system that has been very well proven within our big brake kit range over many years of use.
The semi-float system allows the disc friction ring to expand and contract radially without any restriction as it heats and cools. This significantly reduces stresses within both the disc friction ring and the disc hat and reduces the chance of disc distortion and cracking, while ensuring a very consistent brake pedal feel.
The design brief for our X-Line 4x4 big brake kits was to provide race-proven technology to the 4x4 and off-road markets. As a result, attention was given to ensuring low of NVH (noise, vibration, harshness) under street driving conditions. Our semi-float system runs particularly quiet during day to day street driving.
At Powerbrake, we believe strongly in the benefits of machining our multi-piston calipers from solid billet. All of our championship winning X-Line and R-Line race calipers are machined from high-grade aerospace aluminum billets, and we've chosen to manufacture the X-Line 4x4 range from the same material. Machining from billet is admittedly an expensive way to manufacture calipers but it results in a finished product that exhibits exceptional levels of strength and rigidity.
How do we bring our billet X-Line 4x4 calipers to the market at such competitive prices? Through significant investment in state-of-the-art 5-axis CNC production equipment that allows us to machine the calipers with maximum efficiency. The fact that we machine all of our calipers from billet, matched to the FEA enhanced caliper designs themselves, results in calipers with an impressive rigidity to overall size ratio. The slim profile of the calipers reduces un-sprung weight and aids with wheel clearance.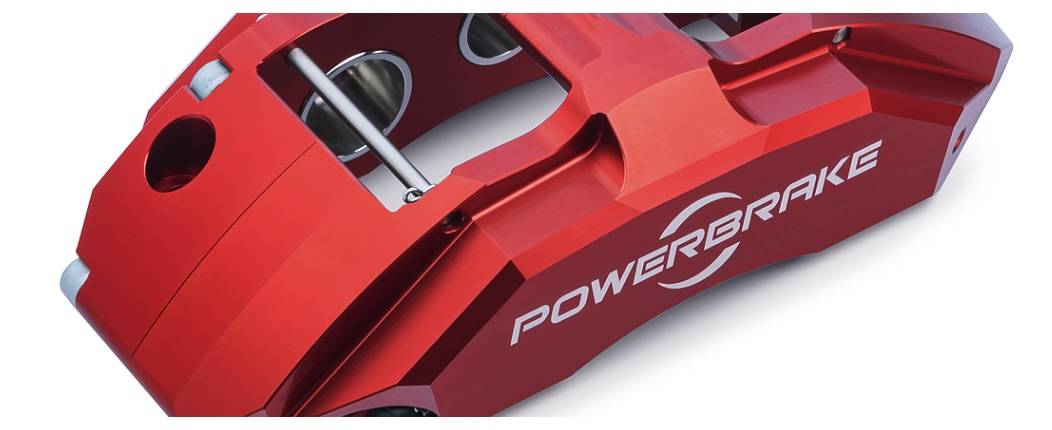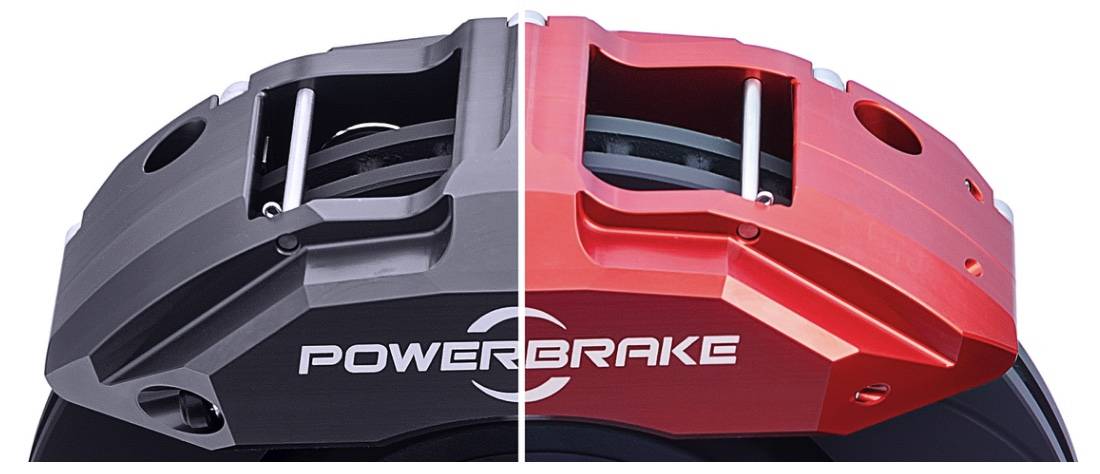 Our X-Line 4x4 calipers are available in two finish options. Either a Red anodize (type-2) or a Dark Grey hard hard anodize (type-3). The anodize dyes used for our Red finish have been carefully selected to offer the maximum UV and temperature resistance to ensure long-term colour retention. The Dark Grey hard anodise is our most durable finish and is the finish that we use on all of our R-Line off-road race calipers.
*Orders are automatically fulfilled with the Red Anodize finish. If you'd like to select Dark Grey, contact our sales team by clicking HERE.

Our logos and other markings are applied to our calipers using advanced laser technology. This creates visually appealing contrast between the logo and the caliper colour. The logos on our X-Line 4x4 calipers will not be damaged by heat, brake fluid or solvents, as is the case with paint in-lay logos used by many of our competitors. Brake calipers operate in a very challenging environment. They are exposed to dirt, carbonised brake pad material, constantly fluctuating temperatures and constantly changing environmental conditions. Powerbrake has focused on ensuring that our X-Line 4x4 brake calipers will remain looking good under the widest possible range of operating conditions.


The high-tensile caliper cross-bolts used in the assembly of our X-Line 4x4 calipers are European sourced and coated with a silver zinc flake coating. This coating offers exceptional corrosion resistance, while having no negative effect on bolt strength at all. The bolt positions of our X-Line 4x4 calipers are the result of extensive FEA analysis and deliver optimum caliper rigidity. The cross-bolts are inserted into the caliper from the inboard side resulting in maximum wheel clearance.
Powerbrake X-Line 4x4 calipers all feature stainless steel pistons. Stainless steel is significantly more expensive to manufacture caliper pistons from than the aluminum pistons used by many of our competitors but the benefits are well worth the investment. Stainless steel transfers heat far slower than aluminum. The result is that stainless steel pistons slow the transfer of heat from the brake pads to the calipers seals and brake fluid, hereby reducing the chances of boiling brake fluid and also extending seal life. Our caliper pistons are manufactured by a special grade of stainless steel that is more than twice as strong as regular 304-grade (in terms of yield and ultimate tensile strengths), while maintain the same levels of corrosion resistance.


internal fluid crossovers
Our X-Line 4x4 calipers (like their Dakar-spec R-Line counterparts) feature internal fluid crossovers and hidden bleed screws for protection against damage from stone impacts. Every part of the X-Line 4x4 caliper is aimed at maximum usability and durability in tough off-road or 4x4 conditions.
caliper maximum temperature recording (mtr) system
All Powerbrake X-Line 4x4 calipers feature our MTR system. The system provides a permanent record of the maximum operating temperature reached by the caliper. Feedback from our R-Line race customers has been extremely positive with regards to the MTR system over the years. We therefore decided to apply this same technology to our X-Line 4x4 calipers. Customers will really appreciate this feature as it provides valuable data in the support of brake fluid choice etc. The inclusion of a Max Temp Recording system on civilian big brake kit range at no extra charge is unique to Powerbrake on the world market.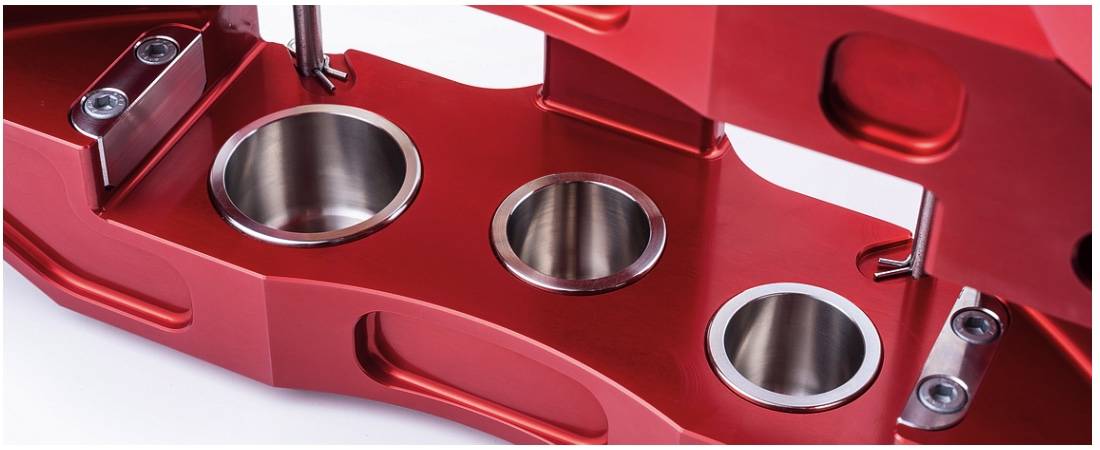 All other caliper hardware components (including: pad retaining pins, bleed screws and pad abutments) are manufactured from stainless steel to ensure highest levels of corrosion resistance.
caliper mounting brackets
X-Line 4x4 caliper mounting brackets are machined from billet aircraft grade aluminium alloy, FEA enhanced for strength and rigidity and (type-3) hard anodised. One detail to note is that we use stainless steel thread inserts for the radial mount bolts that secure our X-Line 4x4 calipers to the caliper mounting brackets. Since our X-Line 4x4 calipers feature a solid caliper re-enforcement bridge, you need to remove the two caliper radial mount bolts in order to change pads. For this reason we use thread insert in our mounting brackets to achieve maximum thread strength and durability. Similar thread inserts are used extensively used in the aerospace industry due to their increased strength over conventional aluminum threads.


The brake lines included with our X-Line 4x4 big brake kits feature an extruded Teflon inner lining that is highly resistant to the aggressive chemical properties of modern brake fluids, as well as being able to handle far higher temperatures than rubber. The Teflon lining is covered by 32 strands of tightly woven stainless steel braid that acts as the muscle of the hose, providing incredible resistance to expansion under pressure. Our stainless braid is covered with a polymeric outer layer that prevents dirt from getting between the stainless braid and the Teflon inner lining. The end fittings on our hoses are all machined from grade-304 stainless steel as opposed to the plated, mild steel fittings used by many of our competitors. The resulting hose assemblies offer the best possible pedal feel, matched to excellent durability and corrosion resistance.
brake simulation software
As with all Powerbrake big brake kits, each X-Line 4x4 kit is tailored to the specific target vehicle. This involves careful software modelling of correct brake balance, brake torque outputs and pedal feel using our proprietary brake simulation software (developed in-house) which is a key element in the success of our X-Line 4x4 big brake kits. The software allows us to enter all aspects of the factory brake system on the car as well as all key data affecting chassis dynamics under braking. Our engineers can then simulate braking events at various negative G's and analyse dynamic weight transfer for the chassis in question.
They are then able to perfectly optimise brake torque outputs delivered by our big brake kit by changing disc diameters, caliper piston ratios and brake pad friction co-efficient. The result is that the caliper piston diameters / ratios, disc sizes and pad compounds in each kit are tailored to the vehicle platform in question. Our X-Line 4x4 big brake kits will perfectly integrate with the ABS, EBD and other stability control systems on the vehicle. When driving a vehicle fitted with a Powerbrake X-Line 4x4 big brake kit, you will feel this attention to detail coming through by the way that the vehicle chassis reacts under braking.
The Powerbrake X-Line 4x4 calipers are designed around a pad profile which is available in wide range of brake pad compounds from most pad manufacturers worldwide.