Asheville Vehicle Outfitters is a local business that is family owned and run. We have a passion for the outdoors and building a community of other offroad enthusiasts. We bring years of 4x4 experience and help you build your dream rig.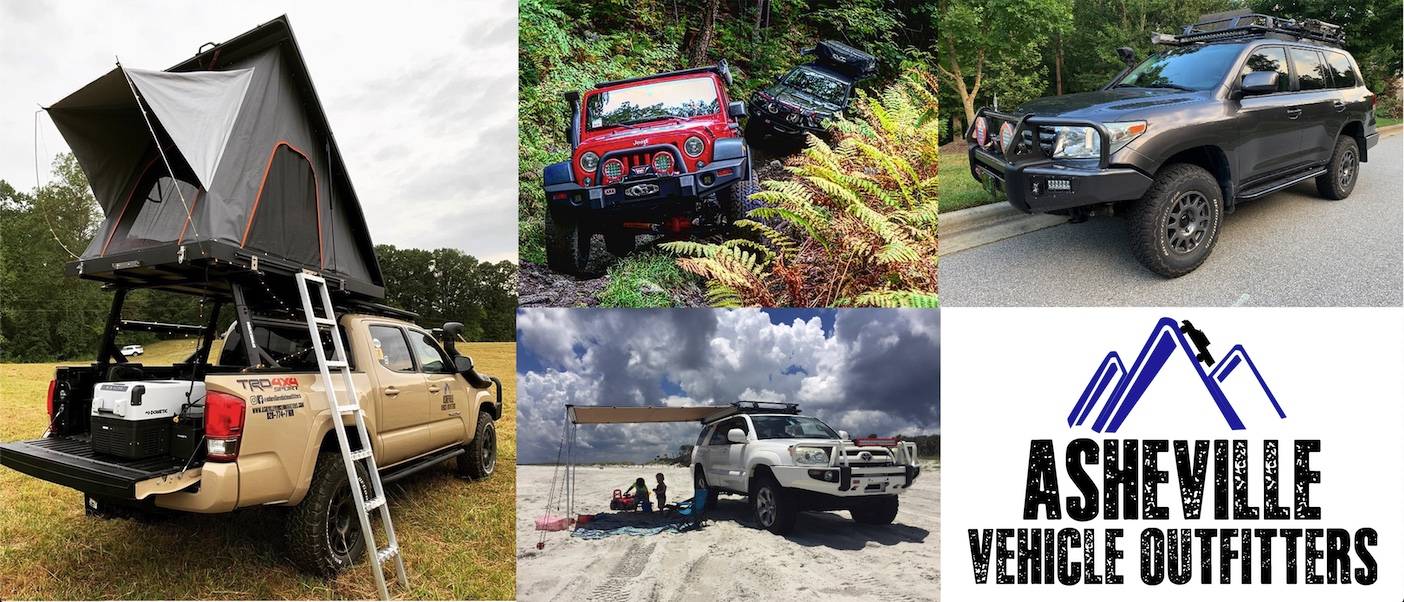 Meet the Valdes family! We love the outdoors, exploring new places and meeting new people! We started our 4x4 adventures back in our college days and haven't stopped since. Since then, we've added four boys to our family, all who love to explore the trails with Mom and Dad! We're always excited to meet new people and can't wait to create new memories and adventures while at AVO!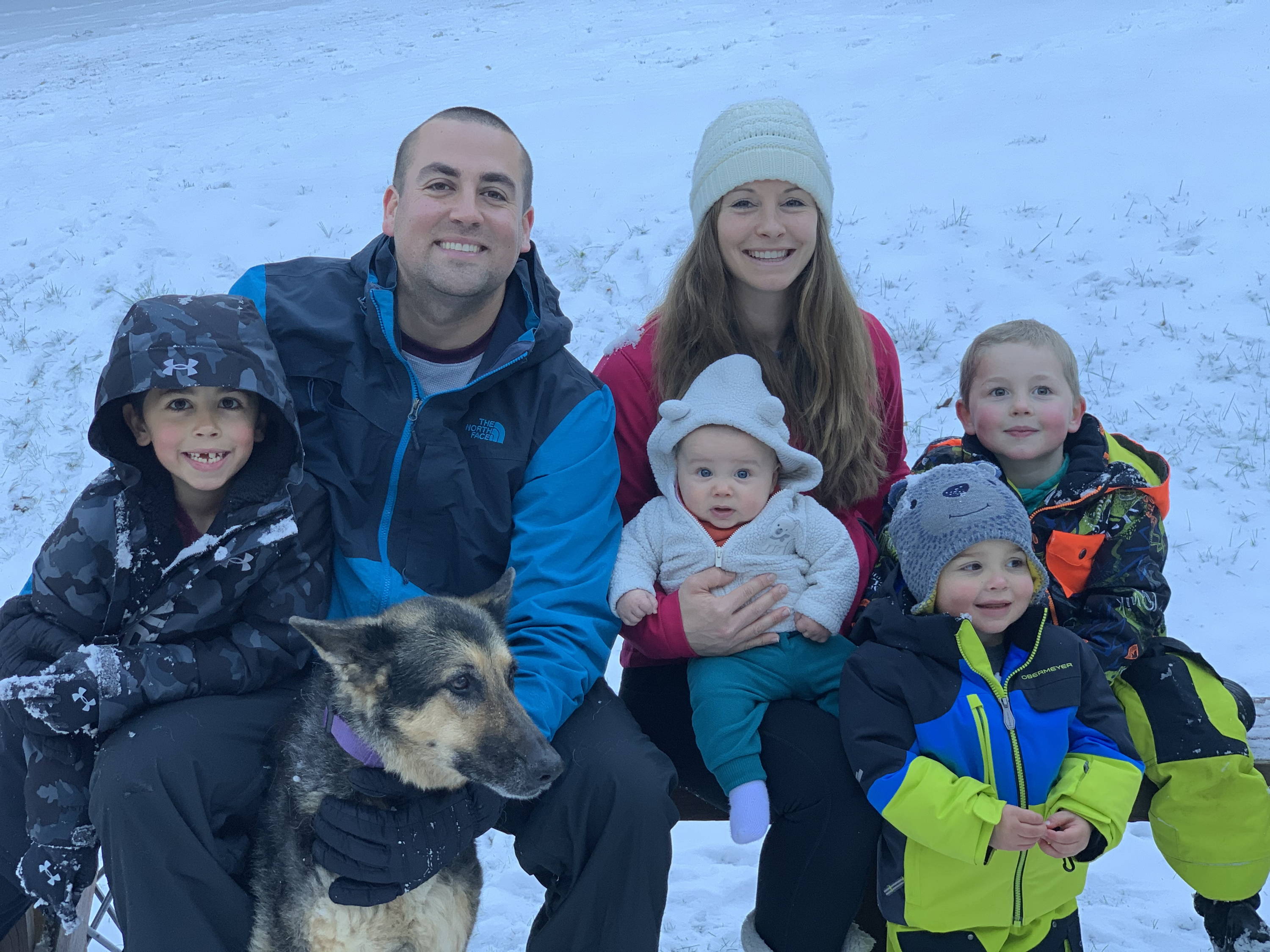 Eric Valdes is President and founder of AVO, overseeing daily operations and accessory installations. An avid outdoor and 4x4 enthusiast, Eric's passion in the overland industry started over 10 years ago while attending UNC Asheville. After graduating, Eric began working for Toyota which triggered his deep appreciation for the Toyota brand and specifically its trucks.
Eric and his wife, Megan, began taking trips in their different Toyota Trucks including cross country trips to Utah, Colorado, and around the southeast. Soon after, Eric pursued an opportunity with ARB to manage the Northeast region of the United States for the company. The time at ARB included traveling the US to visit the country's top retailers, attend 4x4 events, and even included a trip to Melbourne, Australia to visit ARB's corporate headquarters.
Chasing a long time desire to manage an overland retail store, the Valdes family moved to New Hampshire to join Main Line Overland and develop a new store in Bow, NH. In founding AVO, Eric is driven to share his passion for 4wd's and to provide the region with the industry's highest quality accessories. Eric has four boys and is married to his lovely wife and business partner Megan.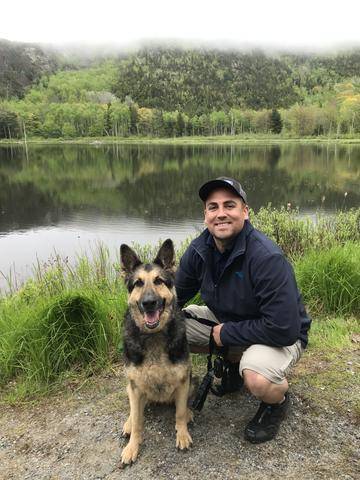 Megan Valdes is the co-founder of Asheville Vehicle Outfitters, while also managing marketing, social media, and assisting with the day to day operations of the business.
An Asheville native, Meg has maintained a passion for the outdoors since she was a young girl. A graduate of Appalachian State University's school of education, Meg has devoted much of her life to children. Now a mother of four young boys, Meg also manages to homeschool the boys and keep them active. Be sure to say hi to Meg at the shop or on the trails!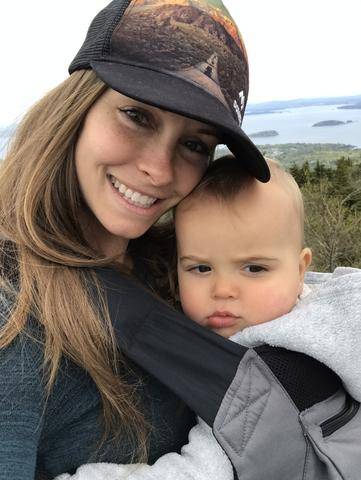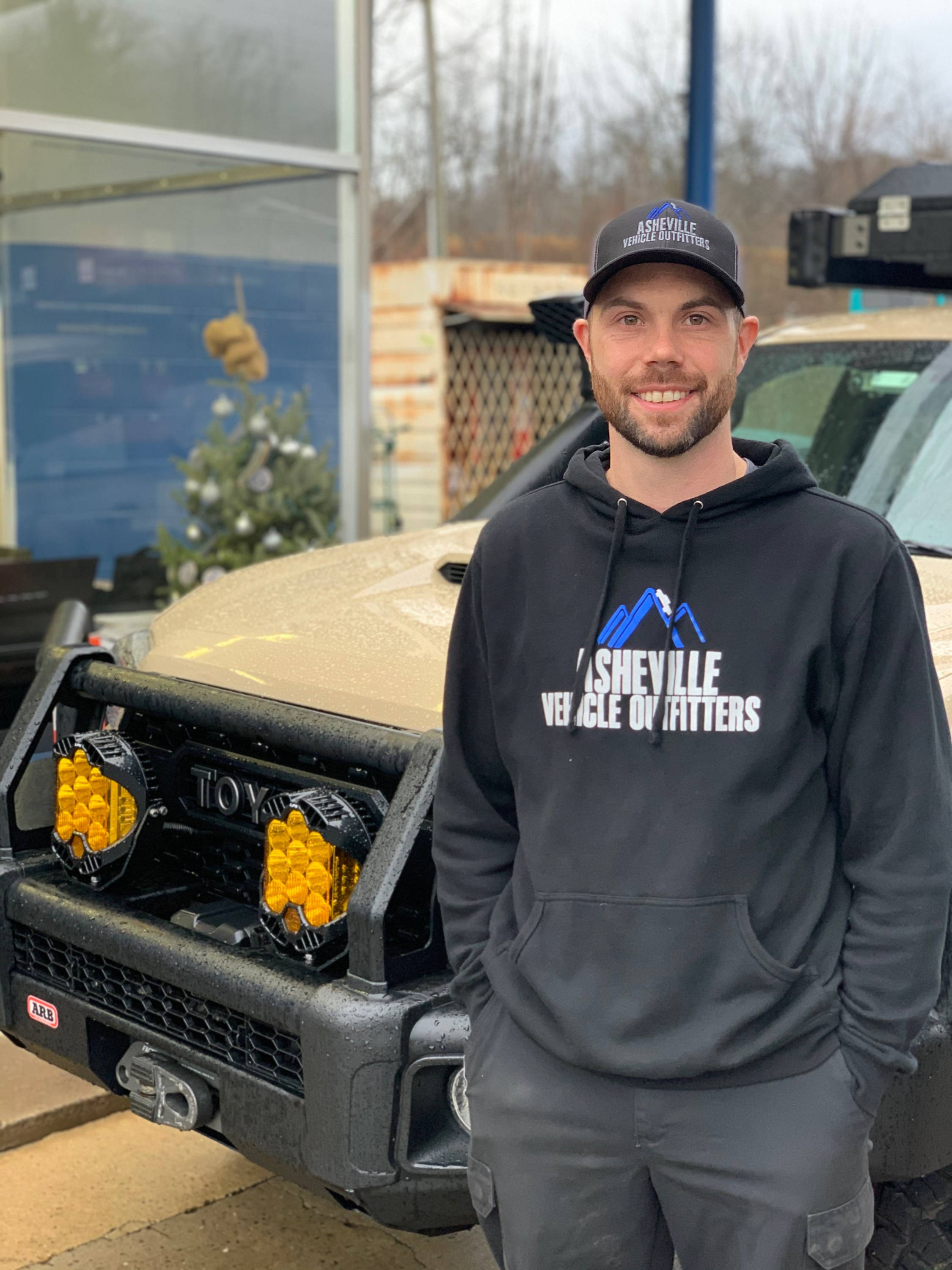 Bobby Wooton serves as Asheville Vehicle Outfitter's service manager, overseeing all shop functions and performing accessory installations. Born and raised in Asheville, Bobby has a deep appreciation for 4WDs and the outdoors. With over 12 years of service and mechanical experience, he has earned master status with ASE and the Toyota motor company.
We have partnered with Bobby to help bring his valuable experience in house to better serve our customers. While not at the office, Bobby enjoys spending time with his wife and two children.

It is our privilege to introduce Michal Halka as AVO's lead technician. An Asheville native and OG 4x4 enthusiast, Michal brings additional superior automotive experience and passion to our business in an effort to help continue improving the overall service experience.
With over 16 years of service and mechanical experience, Michal has earned his master status with Toyota and is an ASE advanced level specialist. We are very excited for this huge addition to the AVO family.
If you're around the shop, make sure to say hi!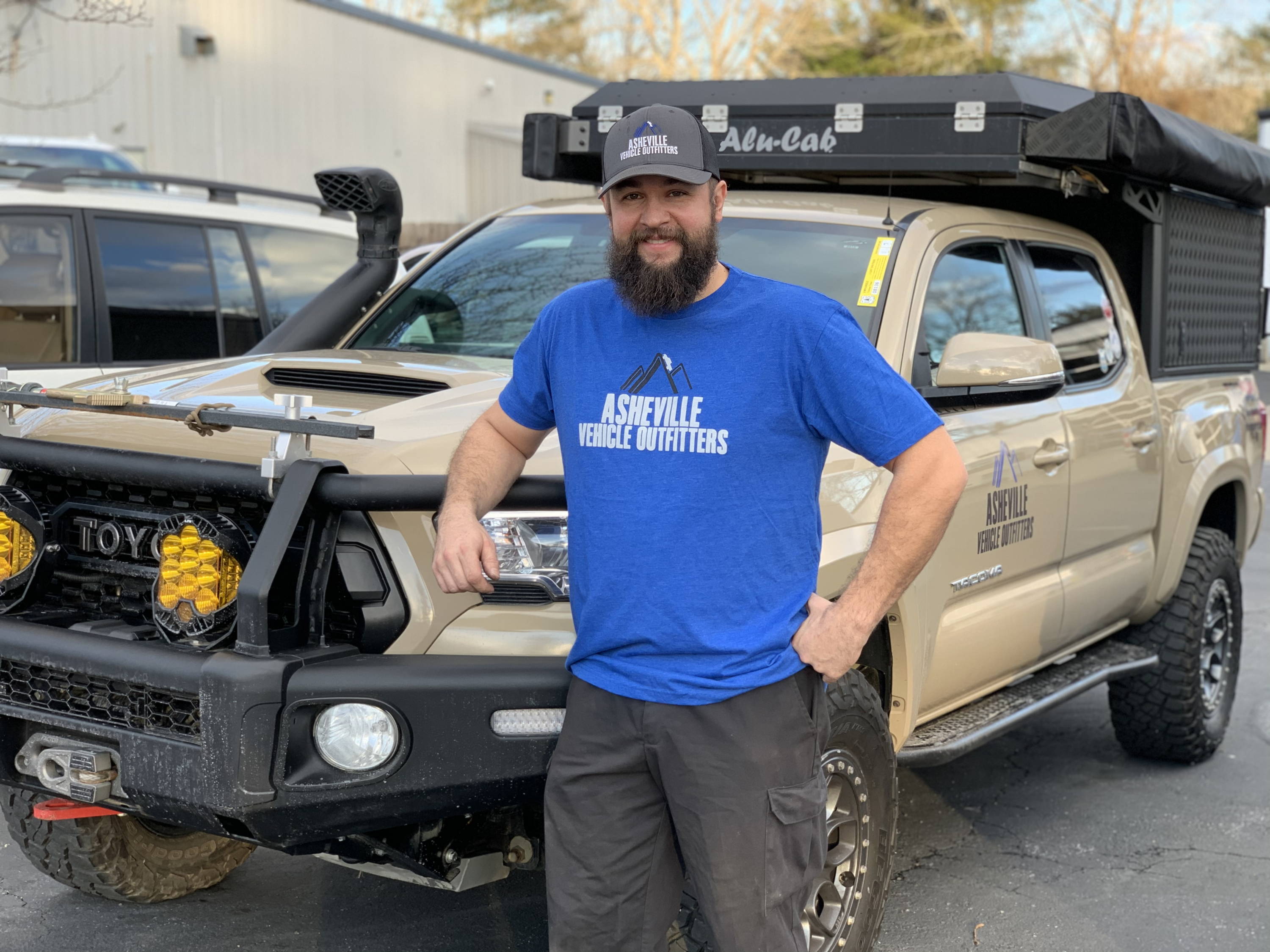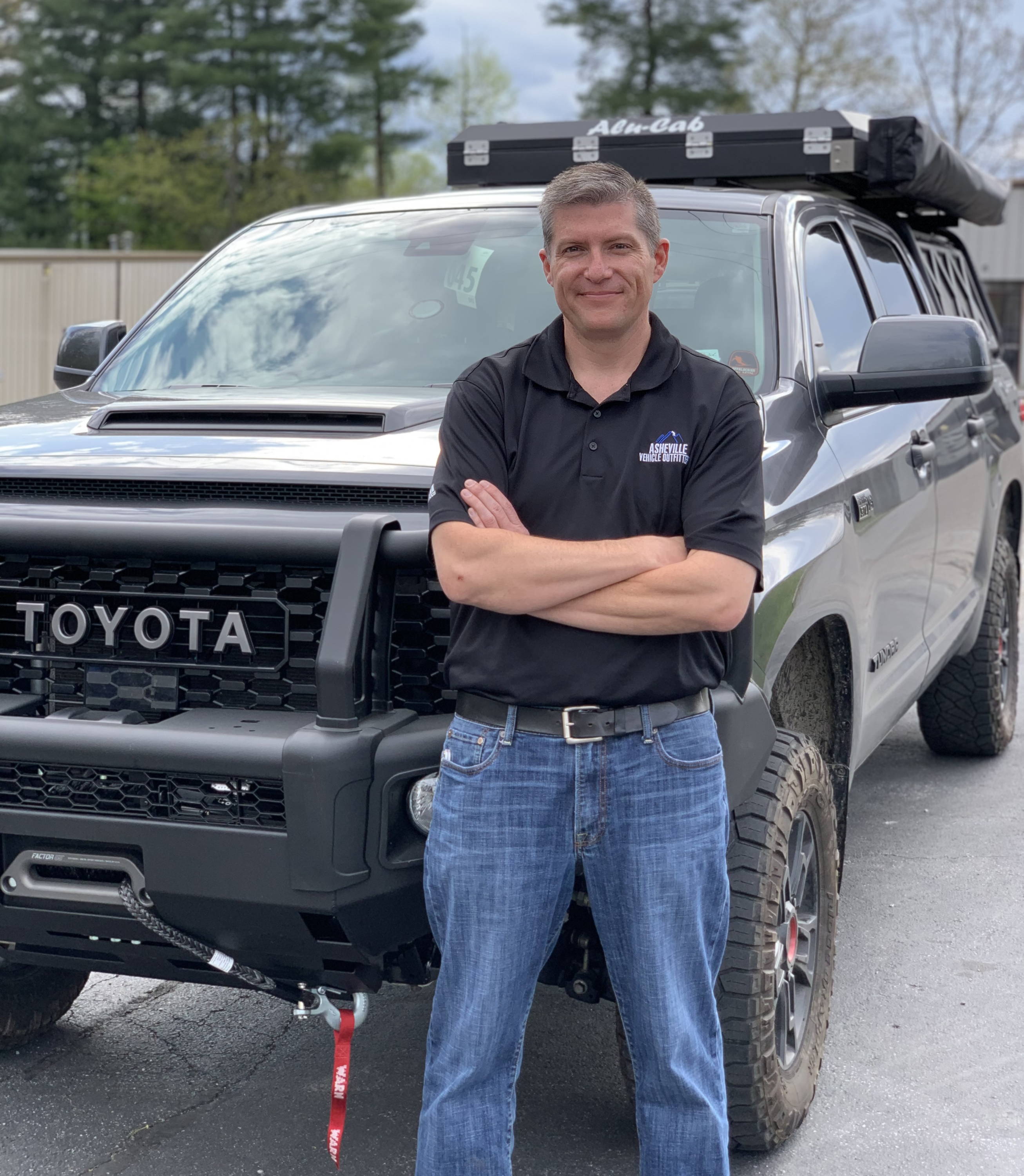 AVO is happy to introduce Josh Harrell as one of our new sales managers. Josh is a US Army veteran who served with 3rd Ranger Battalion for four years. Josh brings almost 10 years of outdoor sales experience with Benchmade Knife Company and First-Light USA, and over 4 years' experience with ARB 4x4 Accessories where he worked with ARB's military and government customers. Josh's enthusiasm for the outdoor and off-road industries is a great asset for the AVO team and our customers. We are excited to welcome Josh to AVO and the Asheville area.
Heather joined AVO in October of 2020 after nearly eleven years serving Asheville, NC as a Police Officer. A lifelong Jeep and outdoor enthusiast, Heather brings to AVO a genuine passion for 4x4 vehicles and a desire to help customers build their dream rigs. Heather serves currently as Sales Manager and works directly with customers to provide expert 4x4 advice and vehicle information.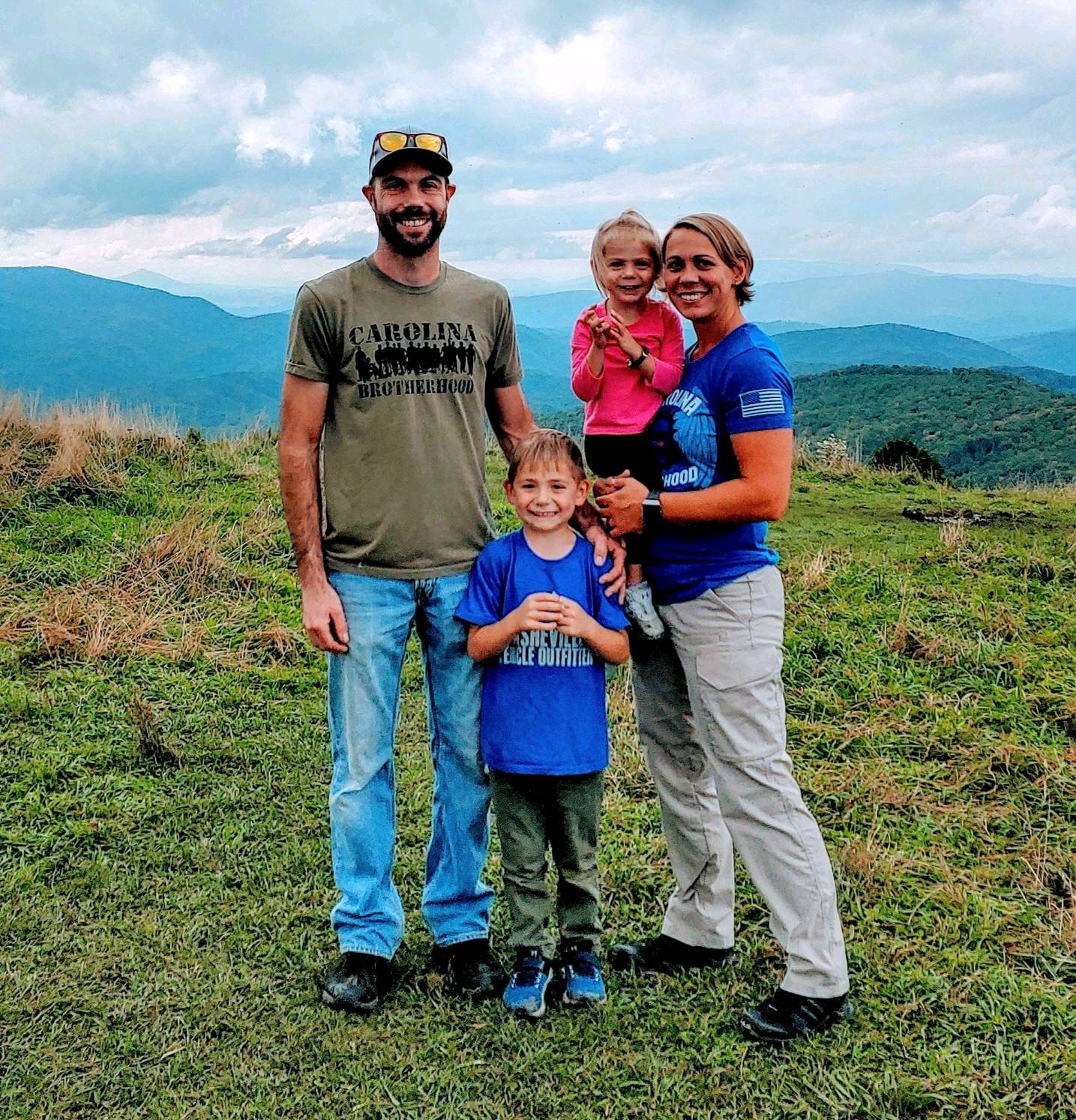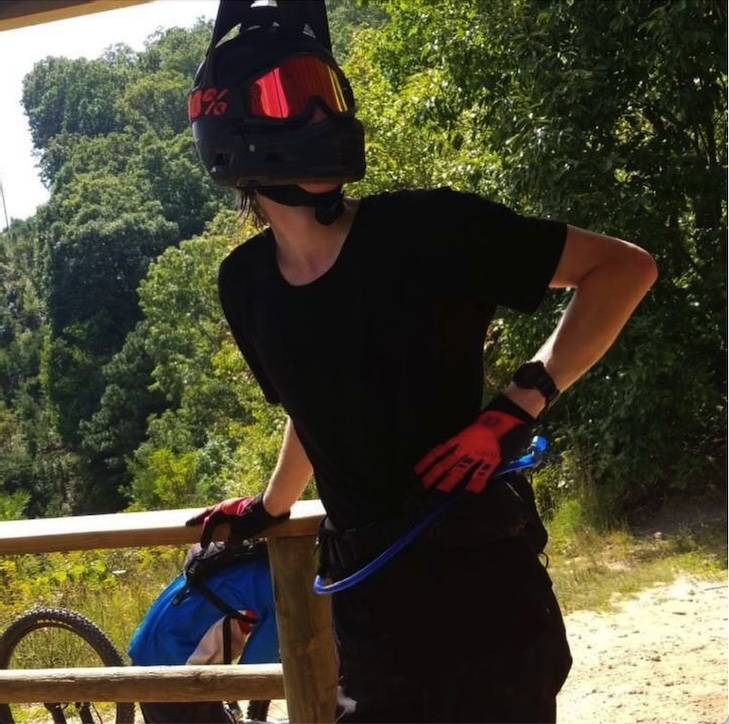 Ethan Davis is AVO's lead electronics/mechanical design engineer and started his career with AVO in the spring of 2020. Currently majoring in Mechatronics at the University of North Carolina at Asheville, Ethan has a passion for engineering and using his specialized skills to help better improve our overall build quality and fit/finish. A true automotive enthusiast, Ethan was raised in an auto racing family with a pedigree for winning and going fast. When not at work, you can find Ethan wheeling his LS swapped custom 80 series, mountain biking, or spending time with family and friends.
Born in Costa Rica, Bayron immigrated to the United States in 2005. A graduate from North Buncombe High School, he earned an associates degree from AB Tech. Bayron began his career as a lube tech at Toyota of Asheville and worked his way up to become a certified Toyota Master/ ASE Master Technician. Bayron loves his family, his cars, anything star wars, and cerveza.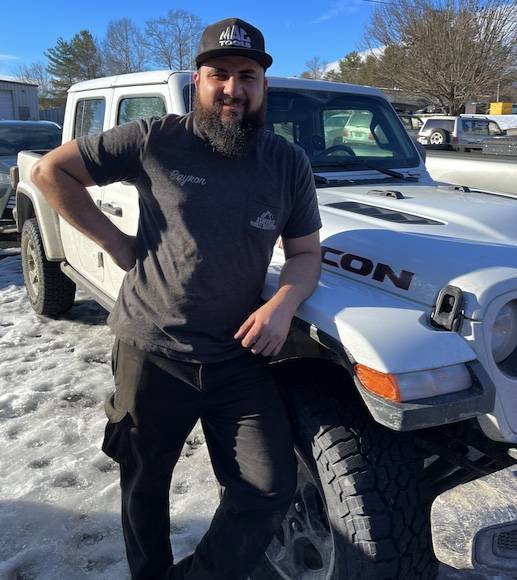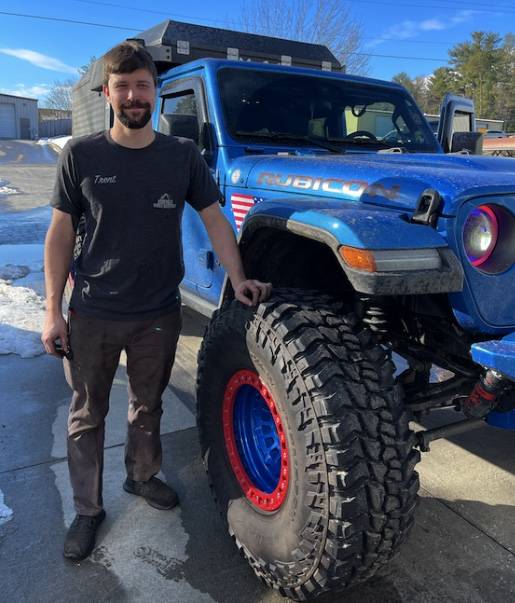 An Asheville Native and an automotive enthusiast, Trent has been servicing and performing maintenance on vehicles for the past 7 years. Trent also was with Toyota of Asheville for 5 years and became Toyota Certified.
sergeant major christopher a. reynoso
Sergeant Major Reynoso is a native of New Port Richey, Florida. He graduated from Ridgewood High School in 1993 and reported to Parris Island. Graduating from recruit training in he reported to Marine Corps Communication Electronics School, 29 Palms, CA, for the Field Radio Operator Course (FROC).

After completing FROC, Private First Class Reynoso reported to 7th Motor Transportation Battalion, Camp Pendleton where he served as a Radio Operator. Private First Class Reynoso was assigned to the Marine Expeditionary Unit Service Support Group 13 (MSSG-13) where he served as a radio operator for the Landing Force Shore Party for the 13th MEU.
While assigned to MSSG-13 he was promoted to the rank of Lance Corporal and participated in Operation United Shield in Mogadishu, Somalia. Lance Corporal Reynoso completed two successful WestPac tours and returned to 7th Motor Transportation Battalion in 1997 and was promoted to the rank of Corporal. Corporal Reynoso was then assigned to 3rd Battalion 3rd Marines infantry Battalion where he served as a radio operator and deployed on the Marine Corps Unit Deployment Program (UDP) to Camp Hansen, Okinawa Returning to Hawaii Corporal Reynoso participated in numerous field exercises at Puhokalo Training Area on Hawaii's big island and was promoted to Sergeant in August of 2000. Sergeant Reynoso deployed with 3/3 again as a Radio Supervisor to Okinawa returning in September of 2002.
In October of 2002 Sergeant Reynoso received orders to Joint Communications Support Element at MacDill AFB in Tampa, Fl where he served as a Radio Chief in the Ground Radio section. Working in two man teams Sergeant Reynoso was sent to Shaw AFB, South Carolina to participate in Internal Look for the unit. Upon his return Sergeant Reynoso was deployed to Saudi Arabia and Iraq to work for the Army's 5th Corps to call in close air support for Task Force Kerney. Sergeant Reynoso was the only member from Joint Communications Support Element to go forward into Iraq. Upon his return Sergeant Reynoso was sent to Radio Chief Course in Twentynine Palms and was promoted to the rank of Staff Sergeant on March 1st, 2004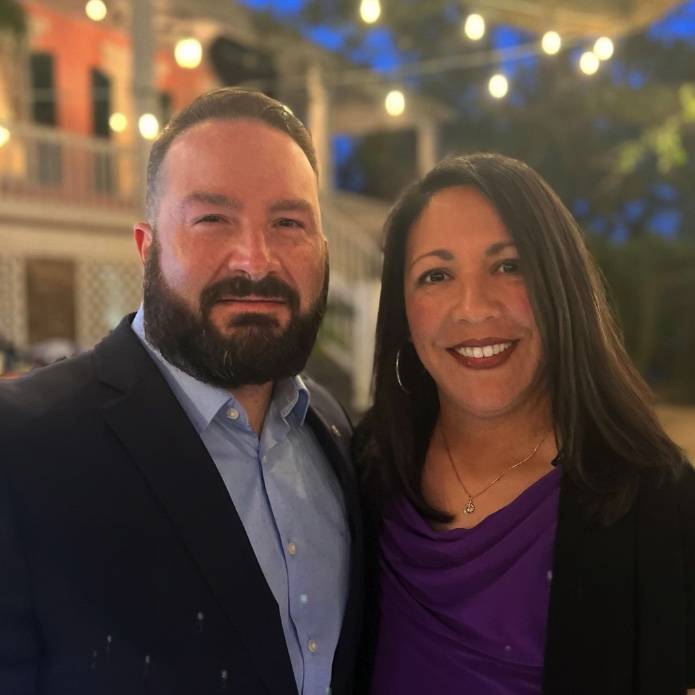 After completing Radio Chief Course he received orders to United States Central Command at MacDill AFB in Tampa, Fl for duty as the personal communicator for the Central Command Commander General John P. Abizaid, an Army Four Star General, while assigned to General Abizaid, Staff Sergeant Reynoso kept General Abizaid in constant contact with the President of the United States, Joint Chiefs of Staff and the Secretary of Defense and keeping the commander up to date on all WIA, KIA, and all attacks in both Afghanistan and Iraq. During his time at Central Command SSgt Reynoso deployed to over 27 countries and over 200 days a year. He was also named U.S. Central Command's Senior Service Member of the Year in 2006. SSgt Reynoso received orders in August of 2006 to Marine Wing Communications Squadron 38.
Upon checking in to MWCS-38 SSgt Reynoso assumed the duties of Communications Chief a billet that he held for a period of 9 months until he assumed the duties of Company Gunnery Sergeant for Alpha Company. SSgt Reynoso deployed to Iraq with MWCS-38 and was promoted to the rank of Gunnery Sergeant in country on February 1st, 2008. Upon returning he received orders to Marine Corps Communications Electronics School.
Joining Marine Corps Communications Electronics School in February of 2009, Gunnery Sergeant Reynoso began instructing entry level students for a period of 6 months before taking over as the Chief Instructor for the Field Radio Operators Course and deployed to the Republic of Georgia to train the Georgian Military. He held that billet for 10 months and was then moved to the Company Gunnery Sergeant billet for 12 months. In December of 2011 Gunnery Sergeant Reynoso was selected to the rank of First Sergeant and received orders to 5th BN 11th Mar. In July of 2012 First Sergeant Reynoso deployed with Sierra Battery in support of Operation Enduring Freedom 13-2, the battery played a vital role in defending Camp Bastion during the attack on Camp Bastion. He then returned in March of 2013 where he was reassigned to be the First Sergeant of Headquarters Battery 5th Battalion 11th Marines until May of 2013. First Sergeant Reynoso then received orders to School of Infantry - East for duty with Marine Combat Training Battalion as the Kilo Company First Sergeant, he served in that role until March of 2015 when he was reassigned as the Headquarters and Service Company First Sergeant for Headquarters and Support Battalion, School of Infantry - East. In January of 2016 First Sergeant Reynoso was transferred to serve as the Director and First Sergeant for Marine Combat Instructor School at SOI-E.
First Sergeant Reynoso was promoted to Sergeant Major in January of 2017 and assumed duties as the I&I Sergeant Major for CLB-451, CLR 45, in Charlotte North Carolina covering 12 separate sites spread across 9 different states and over 1600 Marines and Sailors.
Sergeant Major Reynoso's personal awards include Defense Meritorious Service Medal, Meritorious Service Medal, Navy and Marine Corps Commendation Medal gold star in lieu of Fourth award, Joint Commendation Medal, second award, Joint Service Achievement Medal, second award, Navy and Marine Corps Achievement Medal gold star in lieu of third award, and Combat Action Ribbon. He is married to the former Evelyn Diaz, and they have a Daughter Carolena age 24 and son Nicholas age 21.
Thank you for supporting our small business!